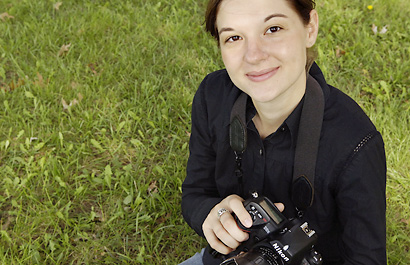 PHOTO BY SAMANTHA CLEMENS/ MPW.57
As Sara Nassar rounds the corner of the familiar walk home with her younger brother, Akram Nassar, after a busy day at Marshall High School on a sunny afternoon, a car overflowing with teenagers drives by. As the car passes a voice rises above the blaring rock music, saying, "The immigrants are coming to get me."
During the summer of 2005, the Nassar family settled in their third American town Marshall, Missouri after arriving to the United States from Palestine three years ago. A standard newcomer mailing arrived at their Benton Street home, complete with a formulaic letter and a pile of coupons including a free haircut at a local barbershop, a complimentary ice cream cone at the Dairy Queen, and various other open invitations to entice patronage to the town shopping square. The welcome letter reads, "We are so happy that you chose Marshall as your new home."
After the speeding car passed them on the way home, Sara and Akram do not miss a step or indicate any reaction to the taunt. With a very limited English vocabulary they do not understand the word immigrant or the insult. What they do understand is that they are in a unique position of having the privilege to study in a place without fear of getting hit with a stick.
"One time I was hit with stick," says Sara, who was punished for not completing a homework assignment years ago in Palestine. "Here is good," she says. "Here you have police; no police in my county." With so much damage from generations-long conflict in Palestine, Sara's father, Majed, lost his construction job and moved his family to the United States looking for a safe working environment and education for the two youngest children of his seven.
Despite the safe educational environment at Marshall High School, Sara still must overcome many obstacles in culture and language during her day as she moves from class to class and place to place that we Americans take for granted. Trying to learn Algebra when the teacher is using words that she cannot understand to formulate the equation. Yet she maintains a B average in the class as a result of diligent work and tremendous sense of self-discipline.
The owl, the Marshall High School mascot, is plastered all over the walls of the school in an American tradition of school pride during the week of their homecoming celebration. "In my country, the owl no good," she says. Her fourth hour of school is spent in a forensics class with Mr. Paul Gieringer, who was born and raised in Marshall. He explains the method of teaching this class as, "truth in words" and use of "Greek philosophy."
Sara looks forward to this class because Mr. Gieringer is "good" she says. He is open to her language, inviting her to read a passage from an English-Arabic Quran he keeps on a shelf along with a bible and other culturally diverse reading material.
When Sara started school Mr. Gieringer gave her a gift of a long sleeved white t-shirt with the Marshall High School logo on the front breast pocket and the owl mascot on the back.
During homecoming week Sara is wearing this shirt with a button down sleeveless shirt over it, covering the owl on the back. During Mr. Gieringer's class he sees that she has worn the gift. He approaches her and tries to encourage her to take off the sleeveless shirt to reveal the school emblem. She resists, he presses and she resists again until he finally relents and goes back to entertaining the class with a book called "Why Men Have Nipples."
Although the foreign American culture and language barriers are everywhere, Sara's gentle and kind spirit allows her to connect and share a moment with those who are willing to show compassion. She looks forward to the end of the day when she is in Mrs. Lisa Flanigan's English skills (ESL) class. "She is good teacher. The Misses is nice," says Sara with a sincere look in her eyes. Mrs. Flanigan helps Sara with questions she may have from any of her courses throughout the day. She also assists her with taking tests and introduces new English words through games like bingo and reading exercises, most recently a paragraph about the proven health benefits of laughter. Through this exercise Sara learns the words heartbeat, blood pressure, organs and about half a dozen other related vocabulary in the exercise. Sara receives individual attention from Mrs. Flanigan who is instrumental in breaking Sara's language barrier.
After a long day at school she arrives home and quickly retreats to her room to pray, using a ruby red prayer rug from Palestine with the image of Mecca woven into the fiber. Then she begins the evening meal for her father and brother. "No like to cook so much," she says, but she is hungry after fasting at school all day because, "no like the food so much." Now, as the only female currently in the household, Sara will be cooking until her mother brings some relief when she arrives to Marshall from Palestine in October. After supper she will study until she goes to bed.
Sara, who is a 19-year-old junior, would likely be married by now if she still lived in Palestine. She has many observations on life, culture and her future.
A few decorations in the small apartment hint at her country and religion. Three shiny CD discs hand from the wall with Arabic characters written on them. Family photos are clustered on a small end table.
The numerous VHS home movies recorded in Palestine marked with hand written Arabic labels remind her how far she is from home. In Palestine, she goes to pray at the mosque every Friday. Although there are 29 Protestant churches, one Catholic church and a handful of other churches of other denominations, there is no mosque in Marshall. Since no one in the family can drive, they look forward to her uncle traveling from Topeka, Kansas to take them to Kansas City, Missouri to pray together at the mosque upon the conclusion of Ramadan next month.
As she watches a home movie of her older brother Amjad's 2003 wedding celebration in her home town of Al Janaya (a 15-minute car ride from Ramallah) she says, "me miss my country."