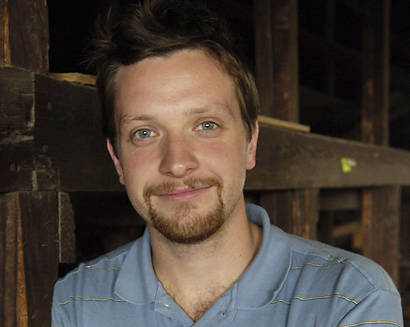 PHOTO BY SAMANTHA CLEMENS/ MPW.57
God Willing

by Zach Boyden-Holmes

The 57th Missouri Photo Workshop | MPW.57
"He lets me do everything. I work hard and I pray, but he makes it happen," Jill Adametz says of her relationship with God. Jill is a country girl, a college student, and above all, a Christian. Farm-raised in Montfort, Wisconsin, population 676. The bouncy 20-year-old came to Missouri Valley College two years ago on a rodeo scholarship and is now ranked 8th in the nation in collegiate goat-tying.
She credits her faith in God with her rodeo skill, and she's looking to him for guidance in her romantic life.
Jill met Kelechi Onyebuchi in a campus Bible study, "At first we were friends, we talked on the phone all summer, but we've been courting for a few months." The pair are committed to each other exclusively. Unsure of her family's reaction, Jill hesitates to call it dating.
"I want to tell my dad before he sees him. We've never had black people around. Ever."
"Once he gets to know him I know he'll be accepting of it."