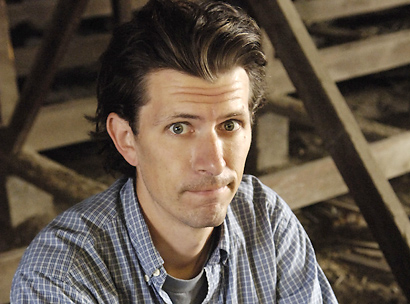 PHOTO BY SAMANTHA CLEMENS/ MPW.57
Ruben Villatoro is a Community Resource Officer for the Marshall Missouri Police Department. He is Salvadoran, and therefore also a member of this town's burgeoning Latino population. Because of his job and because of his background, Ruben occupies an at times solitary position between two distinct, and in Marshall, often distant communities.
He wears a badge, drives a police cruiser, and issues tickets for violations of the local nuisance ordinances. If your yard is full of trashed cars, assorted junk, or the weeds have grown too high, you can count on a visit from Ruben and possibly a citation. He is also a translator for the police, and being a native Spanish speaker, is the liaison for much of its Latino constituency. He also runs errands and transports documents from the station to the offices of other city officials. He is the only Latino in an otherwise Anglo office. In his spare time, Ruben teaches private classes in Spanish to Marshall residents who hope to communicate better with their Latino neighbors or employees. With his easy smile and quick wit, he is a popular character in the halls and offices of Marshall's official community. He says, "White folks, mostly they accept me. Some are racist, or have their prejudices. But most accept me, they say hi to me when they see me in the street."
Ruben came to the United States from his native El Salvador in 1990, during that country's long and bloody civil war. He arrived with his wife and three year old daughter. In 2000 he completed his requirements and took the oath that made him a citizen of the United States. Ruben graduated from the university with a degree in international relations while he still lived in El Salvador. He continues to be interested in politics and international affairs, keeping a row of videotapes above his television, each on a different theme: Bush's war, immigration. He says he keeps them as a reference, and thinks of writing a book one day on immigration. He has always been a progressive, relating to the causes of the poor. In fact he waited for five years to apply for his citizenship because of his personal opposition to US policy in Latin America.
But here in Marshall, his interaction with the Latino community is a little more complicated. He has only a handful of close friends who are Latinos. He enjoys passing by the local Latino grocery and restaurant for traditional "stuffed" tortillas, Salvadoran pupusas. Yet he feels that many in the community see him only as a cop, and he is often called to enforce ordinances that can fall more predominantly on poor, often Latino folks. And while he has an easy and amicable demeanor, it is hard for him to make close friends here, ones that he can engage in conversations about the ideas and current events that interest him. Recently divorced from his wife, and with his 18-year-old daughter off at college, he lives alone. He looks to the future these days, either here in Marshall or maybe somewhere else, where he can meet someone new, and pursue the intellectual life he put on hold many years ago.