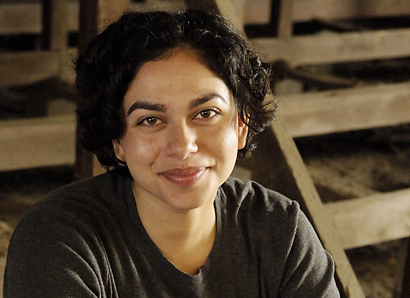 PHOTO BY SAMANTHA CLEMENS/ MPW.57
Bettie Fisher, 20, and Norman Miller, 22, are navigating life on a thin line-financially, physically and emotionally. Verbal and physical abuse run in both their families. Bettie left her home at the age of 17, pregnant with Norman's child. Norman was born with a spinal birth defect which prevents him from standing upright and joining the mainstream workforce. The young father projects a tough exterior while responsibly attending to his duties as a father. Burdened with a turbulent past, Bettie and Norman find strength and purpose in the future, their two "baby girls" Sara, 3, and Natasha, 1.
Teetering between closeness and separation, laughter and heartache, Bettie and Norman hold onto each other tightly enough to raise the girls even as their grip on their seven year relationship loosens. The stress of living on disability, family service checks, and medicaid, is increasingly pulling them apart. As familial cycles repeat, Bettie suffers from Norman's verbal abuse, threatening to leave with the girls, but says she still loves him. Although their once passionate teenage flame has dimmed, it still glimmers in the faces of Sara and Natasha.
Bettie and Norman's coexistence is redefined hour-by-hour and day-by-day. From warmth to contempt, affection to abuse. Looking ahead Norman strives to finish his culinary degree, while Bettie dreams of going to college to become a nurse, like her mother. Coping with their turbulent past and uncertain future, they struggle to walk together as a family on a bridge from the reality they face today to their hopes for tomorrow.